Boss the Lotto
Boss the Lotto
Your job in Boss the Lotto is to truly Boss the Lotto! There are 49 balls in each game, 43 of which are good and six of which are bad. The jackpot can be won by picking all 43 good balls without selecting a single bad one. How hard can it be? Good luck!
Boss the Lotto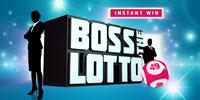 Match 43 consecutive good balls to land an incredible jackpot
Provider: Games Global
Game Type: Casual Game
Payout: 91%
Available on Mobile: ✔︎
Available on Desktop: ✔︎
UK Compliant: ✔︎
Why You Should Play Boss the Lotto
A unique game that doesn't conform with your traditional online slots format, this is a chance-based game capable of offering some brilliant payouts with a startling win rate of 1 in 2.3. It's an incredibly simple game to play and suitable for all types of budgets, offering a lucrative potential jackpot of £1,000,000 depending on the size of your initial bet. The graphics make the 49 lottery balls glisten on both mobile and desktop as they sit across six rows.
You must pick a minimum of six good balls to double your money, and you can cash out after any good ball once you've reached the cash out point. The bar will turn green, moving from left to right as you edge nearer towards the jackpot. This highlights what you could earn if the next ball you select is a good one. Be careful though, it will be game over if you press on one of the bad balls!
How to Play
Place a bet from a minimum of £1 up to a maximum £40 using the up and down arrows, and then press 'START' to get underway. Simply select an individual ball to reveal whether it is good or bad. Any good ball you select will be replaced with a green pound sign to show your winnings are increasing, but selecting a bad ball will reveal a black ball.
Instead of individually picking balls one-by-one, you can also swipe across a whole line for all those good (and maybe bad!) balls to reveal themselves for a much faster game!